CLEAN ROOFS SELL HOUSES
It's an exciting an exciting season of life when you decide to sell your home.  It's usually due to an employment opportunity that will provide a higher income.  It can also be the result of losing a loved one, divorce, or perhaps just a desire to downsize now that you have raised your family.  Now that you have decided to sell your home, it will mean preparing it for potential buyers.  Of course, you will want to put your best foot forward in order to get the most from your investment in terms of real dollars. As the title indicates, Clean Roofs Sell Houses.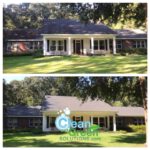 COMMON SUGGESTIONS
Family, friends, neighbors and real estate experts will most likely provide more suggestions than you can implement.  Here are some of the most common suggestions for preparing the inside.  Get rid of the clutter.  Remove personal photos.  And present an image that will allow the general public to visualize their own belongings and pictures there.  Of course, consider paint and removing scuff marks and stains one way or another.  Make sure handles and doorknobs are tight and all electrical and plumbing issues resolved.  Consider utilizing plants, and of course, clean and deodorize.
EXTERIOR CLEANING
But be sure to factor in the importance of exterior cleaning, since curb appeal is vital.  After all, the outside is the first impression they form of their potential new home.  In addition to a house wash and concrete cleaning, we highly recommend a clean roof.  CLEAN ROOFS SELL HOUSES because it is often the very first thing they notice.  If the roof is dark and dingy with streaks and stains, it is an automatic turn off.  CLEAN ROOFS SELL HOUSES because potential buyers often equate a dirty roof with replacement costs they will bear.  And CLEAN ROOFS SELL HOUSES because it really does add sparkle and shine to the rest of the property.
For a Free Estimate please call or text us at 281-864-3957.  Often times we can provide a quote right over the phone or by text.  We are a Certified Roof Cleaning Company.