Kingwood Roof Cleaning
For those searching for Kingwood Roof Cleaning we welcome you to our web site.  Our company has been cleaning roofs for well over 30 years.  We take pride in the service we offer, and look forward to cleaning your roof.  Always know that our number one goal is to protect your property from any type of damage.   We strive to always make the process as easy as possible, on you.
If you are considering having your roof cleaned, you may want to know where the roof stains come from.  The ugly black stains on your roof come from our environment.  It is basically an algae that lands on your roof.  Roof Algae then spreads vertically up your roof.  These roof stains love our warm humid environment.  Eventually they can take over your roof and you never see the original color of your roof again.
Never use a Pressure Washer for Roof Cleaning
Fortunately our Kingwood Roof Cleaning service is able to safely remove these Roof Stains.  I never use a pressure washer to clean a roof. Pressure Washing a roof is strictly advised against by roofing supply manufacture's.  We always follow manufacture guidelines and use the recommended cleaning products no matter what surface we are cleaning.  Our process of cleaning exterior surfaces is  Soft Wash cleaning methods, so risk of damage is eliminated.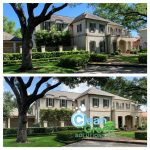 Our company is a Certified Roof Cleaning Company and have been servicing Kingwood Texas or over 15 years.   When choosing a Roof Cleaning company I advise to make sure they carry the proper insurance.  Always confirm with the insurance company that their insurance is valid.
Affordable Roof Cleaning of Texas can be reach by calling or texting 281-853-8697.  You may also fill out our Free Estimate form. We invite you to visit our You Tube Channel and subscribe.
Roof Cleaning service for Kingwood Tx, The Woodlands Tx, Bellaire Tx, West University Tx, and all of Houston Texas