ADVANTAGES OF ROOF CLEANING
In today's economy, people are continually attempting to find more and more ways to save money.  Many people do not realize how many advantages of roof cleaning there are to regularly scheduled roof cleaning. Most families make sure their clothes, their bodies, their cars, and the inside of their homes are cleaned regularly.  However, the roof of the home is the most neglected aspect when it comes to cleaning.  Just look around your neighborhood and you'll see what I mean!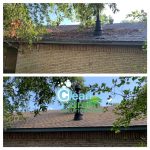 Financial Savings
Cleaning your roof means that it will last much longer, avoiding premature replacement costs.  When the roof is not cleaned regularly and properly, the darker stains attracts and retains heat.  This drives up the monthly cost to keep the home cool.  A roof with algae stains contributes to the possibility and a greater degree of sickness due to air born pathogens.  In fact, there is some insurance companies that threaten to cancel your homeowners policy if they discover you have not properly maintained your roof.  Over the long haul, the resale value of your home is higher when the roof is maintained and kept looking it's best.  It serves both an aesthetic and practical purpose that results in financial savings.
PRACTICAL BENEFITS
Believe it or not, there are even more advantages beyond financial savings.  One of the most practical benefits is that neighbors appreciate the more pleasant visual appeal from their view.  In fact, in some cases they even become inspired to have their own roof cleaned, which benefits the entire neighborhood.  There is also the greater sense of pride and appreciation you have for your own home when you see a clean roof.
Call or text 281- 853-8697 with address and pictures for a QUICK QUOTE!  Or fill out our FREE ESTIMATE form.
Visit our You Tube Channel and Subscribe.