Pressure Cleaning Houston
When searching for a Pressure Cleaning Houston company you will find many options to choose from.  Clean and Green Solutions has been in business for over 30 years and carries full insurance and license.  We are also a Certified Roof Cleaning Company through the United Association of Mobile Cleaning Contractors.
Clean and Green Solutions always follows the recommended guidelines when it comes to cleaning any surface.  The use of high pressure is not always a need and this is why we often will use our Soft Wash cleaning method.  Roof Cleaning is a cleaning service that we never use high pressure for.  Other surfaces such as stucco, siding, and even some brick we also clean using our Soft Wash method. The use of a pressure cleaning system is not part of cleaning for the pictures you see  in this article.  Our exterior cleaning solutions were gently applied to the surface and then followed by a gentle rinse.  This method of cleaning provides for a better overall and longer lasting cleaning.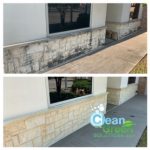 Our Pressure Cleaning Houston service has been servicing the entire Houston Tx area for over 15 years.  Our experience and knowledge allow us to provide the correct cleaning procedures and environmentally safe cleaning products for the surface that we are cleaning. Clean and Green Solutions is also insured for your protection. In fact, we have never had a file claimed in our 25 years of business.  The reason for this is that we use very safe cleaning products and safe cleaning procedures.  We understand that protecting your property is just as important as cleaning your property. We would love to be your Pressure Cleaning Houston company for many years to come.  Keeping the exterior of your home properly maintained is our specialty. We offer superior customer service, always arriving on time and returning every phone call promptly.
Professional Pressure Cleaning Services
We clean homes, roofs, and businesses using a soft wash non pressure cleaning method that eliminates the risk of damage to your home or roof. This method of cleaning is safe for your home and your landscape. Call us today for a FREE ESTIMATE at 281.883.8470.