FOUR REASONS TO CLEAN A ROOF
Before we get to FOUR REASONS TO CLEAN A ROOF, be sure you understand roof cleaning methods.  Affordable Roof Cleaning of Texas advises all customers to never allow anyone to pressure wash the roof.  Instead, insist that your roof cleaning service use a SOFT WASH CLEANING METHOD.  This ensures that no damage occurs to the surface of the roof.  You will also want to insist on proof for complete pressure washing insurance coverage.  So here are FOUR REASONS TO CLEAN A ROOF.  
FOUR REASONS TO CLEAN A ROOF
CURB APPEAL
The roof is one of the first things people notice when they drive by or visit your home.  A clean roof projects a far warmer and more inviting atmosphere that welcomes family and friends as guests in your home.  And it even sends a positive community messages to strangers.  A clean roof enhances overall aesthetics, making the entire home look fresh and attractive.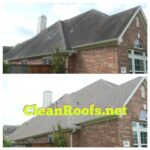 LENGTHENS LIFESPAN
A clean roof prevents bacteria from digging into and eating away at your tiles and shingles.  If left unchecked, those black ugly streaks that appear will result in two things.  First, you'll end up with leaks that will require costly repairs.  Second, the overall lifespan of the roof will be reduced.  So you will end up paying thousands of dollars in premature replacement cost.  Most roofs are designed to last approximately 15-20 years.  In addition, most roofs comes with a manufacture's warranty with specific cleaning guidelines.  In most cases, the warranty is null and void if cleaning specifications are not followed.  So make sure you get maximum years from your roof by keeping it clean at regular intervals.
PROPERTY VALUE
A well maintained roof will not only save money over time, but it will add to the value of your home when it's time to sell.  In fact, if the entire neighborhood maintains a clean roof, then everyone benefits and property values rise for all.  Usually, when the roof is not maintained, you will also notice the house, driveways, and sidewalks are also  covered with dirt, grime, and grease.  Property value suffers when neighborhoods don't look their best.
ENERGY COSTS
The dark streaks and stains which accumulate over time attract heat from the sun.  This is heat is then absorbed and transferred into the home.  Unfortunately, your air conditioning is forced to work even harder, resulting in energy costs increasing.
CONTACT US
We provide exceptional roof cleaning service for residential and commercial properties.  Call 281-883-8470 for more information and to request a free estimate.  We are proudly affiliated through the UAMCC.